Last Updated on February 23, 2023 by Bernard Juchli
Howdy, Driver? To beat menacing terrains, you require the best expedition vehicles. Moreover, comfort and reliability must be a unique characteristic of an overland vehicle for the journey.
Off-road adventures would never be rosy except with the right vehicles. With the dreaded mountainous and rocky paths, an ordinary vehicle would easily succumb to pressure and perhaps, cease to operate. However, a proper overland vehicle will get the campers across the waters, through turbulent tides and wild nights.
Meanwhile, you should know how to save fuel on petrol expedition trucks.
This article comes alive after thorough research on overland vehicles. Here, we've highlighted not just the good expedition vehicles but affordable, reliable, and unique expedition vehicles.
Best Expedition Vehicles for Overland Adventures
In this section, I will list the best vehicles to use for overland adventures.
Below are the best expedition vehicles:
1. PANGEA GXV LIFTING ROOF
A potent expedition giant for overland adventures
The Pangea GXV is a tremendous expedition machine for adventurers. At the mention of best expedition vehicles, this magnificent machine comes to mind with its well-crafted visuals. It provides an overwhelming luxurious sensation, such that responds swiftly to journeys on rocky paths, muddy lanes, and hilly regions.
Designed for medium-duty, the Pangea GXV measures 17' to 25' lengths large and 96 inches wide. This overland vehicle sports what adventurers would deem ideal for an expeditionary journey.
Contagious Pangea GXV Features
A 4-point kinetic mounting system
Cab-to-cabin access
Premium dual-paned glass designed with insect screens and shades
Storage doors fitted with 3-point stainless steel locks
Oh! The interior is enchanting. The Pangea GXV custom cabinet is cushioned with handcrafted wood veneer, the floors padded with commercial vinyl and the walls/ceilings made captivating with finely fitted white fiberglass.
The average cost of Pangea GXV is US$650,000.
2. EARTHCRUISER FX
An adventurous overland vehicle without limitations
Do not address the EarthCruiser FX as a typical carriage truck, it is a complete camper. The domed molded and Insulated roof camper is a unique expedition vehicle with alluring texture coupled with a fascinating journeying experience. It is not intimidated by bullying ambiances and the camper readily renders a gleaming journey.
If you intend to make cobble roads feel like an airplane runway, the EarthCruiser FX is that expedition vehicle. Get over hills, smack terrains, and burst through bad the weather like they are nothing. After all, it is the energy that matters and the grand EarthCruiser houses that expedition energy.
Amazing Interior EarthCruiser FX Specs
Cabined with privacy screen options
Interior fiberglass surfaces
Dinette table padded with black leather cushions
Isotherm refrigerator
Mini Duo burner induction cooktop
Lithium house battery
The average cost of the EarthCruiser is US$175,000 which is decent for its abilities.
3. SPORTSMOBILE CLASSIC 4×4
A Ford Cutaway heavy-duty vehicle
The Sportsmobile Classic is the touchstone for several other 4×4 expedition vehicles. It borrows the bodily design of a typical Ford but basks in the family of the best expedition vehicles. The shell padding is based on fiberglass and the wheels are crafted to drive seamlessly on rough terrains.
Having a Sportsmobile Classic for an adventure – mild or turbulent is like a horse on a battlefield. It thrives on the instructions of the driver and offers smooth handling. Earnestly, no argument against the fluidity of this 4×4 overland.
Reasons to Get the Sportmobile Classic 4×4
The surplus heavy-duty steering arm
Features military wrap springs
Sports an elegant sway bar
Beefed-up calipers
Rugged wheels
The F550 rotors
The average cost of the Sportsmobile is US$175,000 and a good one at that.
4. MERCEDES BENZ ZETROS 6×6
A versatile and contagious adventure vehicle
This vehicle is the definition of an ideal heavy-duty adventure vehicle on a budget. It's stuffed with mechanical components making bumpy ways feel like an airplane runway. The level of agility paraded by the Zetros 6×6 is unrivaled and it can seamlessly house all that is required for an adventure.
Featuring cab-behind-engine, Zetros is designed to accommodate the Hercules C-130 transport. This 6×6 is not just an expedition vehicle but a majestic machine for tough off-road conditions.
Top Zetros Expedition Specs
1 t to 11.5 t chassis weight (depends on the variant)
BlueTec® SCR diesel and Euro 5 engines for low-fuel consumption
Radiator underride guard
Rear lights protective grilles
High tractive force designed at 1:1.69 off-road ratio
Powerful ventilation and heating system
These combine to make up the powerful overland built by Mercedes. In years to come, it'll remain in the limelight of best expedition vehicles to buy.
The starting cost of the Mercedes Benz Zetros 6×6 is US$130,000. A fair valuation and inarguably perfect for this truck.
5. HUNTER RMV
The devourer of rivers, sand, and mountains
Developed on the Predator 6.6 platform, the Hunter RMV can traverse any natural world. With its well-fitted heavy-duty driveline components, it boasts of top-notch off-road performance second to none.
It has been in the limelight as one of the few best expedition vehicles with no likelihood of diminishing.
The apocalypse has always been envisioned to be a futuristic dreadful event. Should it occur, humans aboard the Hunter RMV would live to tell the tale. Yes, this overland truck is precisely too rugged for any event. In short, the making of the vehicle was practically influenced militarily.
The starting price of the Hunter RMV is US$190,000. The Hunter RMV may not be one of the easily affordable adventure vehicles.
6. AVTOROS SHAMAN 8×8
An amphibious vehicle for dashing through waters
Mountainous paths have never been difficult for the Avtoros Shaman 8×8 adventure vehicle. The all-terrain 8 wheel-drive monster, as deservingly called, tows more than 31,000 lbs and can run at 44 mph. The 'big boy' can thread any soil with 8 passengers comfortably making memories in a wilderness.
In deep waters, the Avtoros Shaman boasts of 4 mph speed aided by its gigantic tires. It takes 2 months to build this terrain monster and buyers are free to have the monster customized during the process.
The starting price of Avtoros Shaman is US$170,000 and an excellent cost at that.
7. EARTHROAMER XV-LTi
A unique carriage with rare lodging features
The EarthRoamer XV-LTi represents innovativeness. It is one of the few best expedition vehicles with tremendous power to torment terrains. This camper is fully equipped with ideal off-road technologies.
It sports a highly advanced EarthRoamer RV for cruising paths of the earth not meant to be trampled by vehicles. Studded with heavy-duty Ford F-550 4WD chassis, it remains a unique monstrous luxury.
Mind-blowing Features
Carbon fiber texture (vacuum infused)
Dual inverter chargers
Indirect multicolor interior lighting
Massive water containment capacity
Digitally engineered electrical systems
Noiseless generator
There are a hundred more breathtaking reasons why the EarthRoamer XV-LTi is a winning overland expedition vehicle. Moreover, buyers have the option of customizing their orders.
The starting cost of the EarthRoamer XV-LTi is US$600,000.
8. ISUZU 800 FTS 4×4 CREW
A king in the line of 4×4 expedition vehicles
The Isuzu 800 FTS is a 4×4 expedition vehicle with spectacular innovations. Onboard are highly advanced technologies integrated to make journeying on terrains seamless. It sports a 90-amp alternator, supports cruise control, ABS integration, and boasts a center differential-lock 4WD.
The unique and adventurous vehicle powers up to 176 kW horsepower @ 2,400 rpm and 706 Nm torque @ 1,450 rpm.
No matter how aggressive a driver handles the wheels, only vehicular energy can beat a terrain. Isuzu 800 FTS will comfortably get the driver/crew off the terrain with seamless handling of the steering and gear. Factually, nobody on board would be able to tell when the 4×4 expedition vehicle runs down steeps and terrains.
The starting price for the 4×4 Isuzu 800 FTS is US$150,000. Worth every dime of the amount considering the onboard technology.
9. IVECO DAILY 4×4
The overland power for turbulent expeditions
The Iveco 4×4 vehicle is a standout class in the line of 4×4 expedition vehicles in the world. Nicknamed the Go-Anywhere truck, the Daily 4×4 is powered by an exceptional FIC Euro VI-D 3.0 L engine. The hyper-muscle adventure truck is capable of generating 132 kW horsepower @ 3,500 rpm and 430 Nm torque @ 1600 – 2700 rpm.
Iveco Daily 4×4 is a camper that can seamlessly bulldoze through terrains. The double low ratio truck sports 12 forward gears engineered with an I6 manual transmission system. Additionally, the HI-MATIC transmission integration aids hill journeys to flow smoothly.
Pricing
The average starting price of Iveco Daily 4×4 is US$108,000. The dual cab is US$112,000 while the single cab is US$105,000.
10. GLOBAL XRS 7200
The freedom to a redefined overland expedition
The 6×6 Global XRS 7200, designed to outperform most expedition vehicles, is an AWD motorhome. The off-road overland vehicle finds pleasure in smashing stubborn soils, thus, making adventures more comfortable.
There are a million reasons why an adventurous journey on earth demands a Global XRS 7200. The vehicle is built to function seamlessly off-road and it sports a homely atmosphere with Luxuriously padded interiors.
Moreover, campers barely have to worry about crossing heavy waters, driving upon rocks, cruising through mud, and getting up hills. A troublesome journey requires a rugged vehicle; Global XRS is one such expedition vehicle.
Pricing
The all-condition off-road vehicle costs about US$1.1 million.
11. Mercedes-Benz Mog Home
Travel to the end of the world seamlessly
The Mercedes Mog Home is a base carrier vehicle with a high load capacity. It is designed for modern adventures and safe expeditions. As one of the best expedition vehicles, it boasts of robust engineering and advanced technologies encouraging a homely feeling.
The special off-road vehicle houses and an unrivaled lodging stuffed with luxurious furnishings.
Drivers and campers enjoy "unlimited freedom" which is a trademark of the Mog Home in a modern expedition. Moreover, there are varieties of user-friendly equipment and padding to make every millisecond of the adventurous journey a splendid experience.
Pricing
The starting price for the Mog Home is US$250,000. It would be unfitting if the overland vehicle cost any less regarding the brilliance of its specifications.
12. ISUZU TROOPER 4×4
Old wine tastes better
This is one of the best budget overland vehicles with a livable capacity. The 4×4 expedition vehicle lets you trample upon terrains notwithstanding the condition. Water bodies, mud, and cobble ways are not exempted. Go anywhere on earth and beyond with this rugged creature and return safely.
If a fellow traveler gets stuck in the mud, the good old 4×4 Trooper is ready to be the good Samaritan. So, remember to travel along with a tow rope in case a fellow traveler needs support.
To get the super Trooper ready, install the roof rack and your affordable overland vehicle is ready to tackle the mission with heavy luggage.
The Isuzu Trooper costs US$10,000 which is why it is one of the most affordable adventure vehicles.
13. LAND ROVER DEFENDER ICARUS
The ultimate camper conversion for adventures
The Defender Icarus is a camper conversion and a rock-like machine capable of trespassing difficult terrains. Built by Alu-Cab, a South African company, the camper conversion is designed for comfort and seamless journeying through terrains.
The camper conversion is one of the best expedition vehicles featuring a built-in tent that accommodates 2 persons comfortably. Integrated into the tent are a foldable stove, Lumeno light, a kitchen-like collection of utensils, and most other household items.
You will never run out of energy with the solar-fitted power generator which lightens and energizes the adventure. In short, the hominess sensation provided by the Defender Icarus is second to none.
The starting pricing of Land Rover Defender Icarus is US$70,000.
14. MITSUBISHI PAJERO – Expedition
A modern off-road vehicle
The Mitsubishi Pajero is a combination of beauty and high off-road functionality. The 4×4 adventure wagon is engineered with several terrain-support mechanisms including the Hill Start Assist (HSA) and Hill Descent Control (HDC).
Conquering difficult conditions is seamless with the unique 2.4L MIVEC Turbo Diesel engine coupled with an 8-spd automatic transmission. While on rugged terrain with low-grip surfaces, the 4HLC (4WD High Range with locked center differential) technology coordinates for a smooth ride.
Another name for 'elegance' is the 'interior' of the Mitsubishi Pajero. It features a roomy interior with overwhelming furnishings, padding and it is built on a user-friendly interface. The vehicle instigates atmospheric energy within adventurers and encourages a memorable adventure.
The Pajero expedition vehicle costs between US$46,000 and US$60,000.
15. BAE SD BRAZOS – 4×4 & 6×6
A military model expedition vehicle for civilians
The SD Brazos is a replica of the military FMTV vehicle and one of the best expedition vehicles in the universe. The vehicle's unrivaled architecture is so designed to accommodate any difficult task with seamless performance. Terrains and bad weather conditions are only but minors to the SD Brazos overland vehicle.
The off-road truck is designed with a 6.7-liter engine 6 cyl Cummins ISB Diesel engine. It powers up to 325 horsepower and 1015 Nm torque. Available as 4×4 and 6×6 chassis, it weighs 6.8 tons, thus, making it easy to trespass difficult conditions. The vehicle comes painted in white from the factory.
The SD Brazos starting price is US$90,000.
16. APPLIED MINDS KIRAVAN
An insane off-road truck for 3 adventurers
Built for Kira (Bran's daughter) by Bran Ferren, the Kiravan is a rare and spectacular expedition super truck weighing 23 tons. The inventor, Bran Ferren, reportedly spent about US$4 million to build the Kiravan in 5 years.
The Kiravan is a highly modified Unimog-based tractor stuffed with homely furnishings. In its interior are a kitchen, bathroom, and a penthouse. It offers the sensation of a luxurious bar and campers could comfortably spend the rest of their lives overland.
The expedition truck comprises arrays of futuristic overland innovations with advanced technologies. It supports communications with aircraft hovering nearby such that no onboard camper loses track. It is user-friendly and stuffed with an emergency beacon transmitter and features touchscreen commands at the pilot's compartment.
The Applied Minds Kiravan costs US$22 million, thus, standing out as the best insane expedition vehicle.
17. FORD RANGER EXPEDITION XLT
The vehicle with terrain flexibility
Undoubtedly one of the best budget 8-seater overland vehicles and a low-fuel gulping machine. The Ranger Expedition XLT adopts a fuel economy of 17 MPG for the city, 23 MPG on the highway, and a combined 19 MPG. This equates to longer adventures through terrains while burning less gas.
Integrated with particulate air filters and a rear auxiliary climate control system, the Expedition XLT provides campers with juicy experiences.
The hominess is a replica of a typical luxurious edifice. It features a carpeted floor, beverage holders, cargo manager, Wi-Fi Hotspot, voice-activated touchscreen navigation system, and storage bin with a lid to enhance comfort.
The starting price of the Ford Ranger Expedition XLT is US$52,810.
18. LAND CRUISER 200-Series
A redefined Cruiser expedition carriage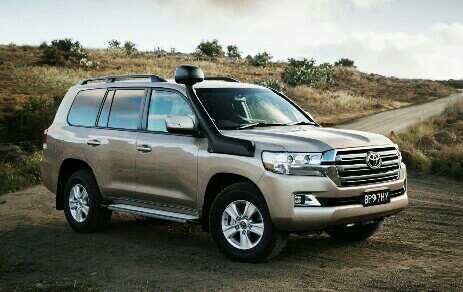 The Cruiser 200 is an absolute representation of a typical Land Cruiser and a touchstone for other Land Cruiser adventure vehicles.
The famous and affordable expedition vehicle is defined by its reliability coupled with comfortability while journeying through terrains and rough tides.
Commonly called the Off-Road Cruiser 200, the vehicle is a mini-home. Comfortable at dawn, marauding terrains by the day and camping-safe by the night.
The Cruiser 200 arrives in 4 variants each costing varyingly. The GX 4WD auto starts at US$80,190, the GXL 4WD starts at US$91,890, the VX 4WD starts at US$102,590 while the Sahara 4WD variant starts at US$123,590.
19. TOYOTA 4RUNNER TRAIL EDITION
Low budget access to a memorable expedition
Quite an affordable expedition vehicle and a superb overland vehicle on a budget. The terrain god is a body-on-frame SUV with supreme reliability off-road. The overland vehicle becomes fierce when an adventurer turns on the engine.
Included in the terrain god are TRD Off-Road wheels, an optional sliding load floor, a 40-quart cooler, and a Yakima roof basket. The 4Runner Trail Edition sports an alluring interior padded with floor liners and tan contrast stitching.
Get the luggage on the roof and don't forget to bring a tow rope along because another adventurer may get stuck in the mud.
The starting price of the 4Runner Trail Edition is US$43,500.
Conclusion
Expedition vehicles are practically a unique class of vehicles. Some of these exceptional machines offer sublime drivability, others with a complete homely sensation while some others are strictly terrain and tide beasts.
Notwithstanding the specific functionalities apparent in these vehicles, comfortability, reliability, and off-road prowess is what they offer in common.
You should know what to look for before buying any of these expedition cars.
Latest posts by Bernard Juchli
(see all)