Last Updated on February 2, 2023 by Bernard Juchli
Regardless of what you already have in your garage, you may need something more luxurious—the most expensive UTV. In light of this, although most automakers provide a wide range of vehicles, this list focuses entirely on each brand's flagship vehicle. This publication is written with your search intention in mind and features the top expensive UTVs in the market.
12 Most expensive UTV in the market
This ranking represents the most feature- and performance-packed UTVs from each major manufacturer.
Polaris RZR Pro R 4 Ultimate ($44,999)
We now have complete information about Polaris' newest generation of off-road vehicles; the RZR Pro R. Starting at $31,999 for the two-seat Sport model, the RZR Pro R 4 Ultimate Launch Edition breaks new pricing ground with an eye-popping $44,999 price.
Read also: UTV titles not mandatory, except…
There are two colorways in limited models, that is the Lifted Lime and Onyx Black/Orange. For the additional $3,000 over the Pro R 4 Ultimate, you receive customized paint and color-matched accessories. The top-tier Pro R includes 22.25 inches of front suspension travel and 24.5 inches of rear suspension travel, as well as a 2.0L four-cylinder engine producing 225 horsepower.
Speed UTV El Jefe Robby Gordon Edition ($41,999)
Robby Gordon and the Speed UTV crew have lofty goals for their forthcoming range of sports UTVs, which are now only available for preorder.
The Speed UTV is specifically designed for off-road that requires the highest level of performance, speed, and passenger safety in mind. We cannot wait for the Speed UTVs to hit the market, and there are already thousands of owners in line for their own Speed UTVs.
2022 Can-Am Maverick X3 Max X RS Turbo RR with Smart-Shox ($33,099)
The Can-Am Maverick X3 Max X RS Turbo RR with Smart-Shox, whose name is nearly as long as its wheelbase, symbolizes the apex of the company's product pyramid. This magnificent desert chariot boasts 200 turbocharged horsepower and other chassis upgrades, making it a viable challenger for the sport category's top spot.
When developing the Max, Can-Am prioritized rear seat legroom, and it shows since it requires a 14 x 6.5-foot space in your trailer or garage. The X3 Max with Smart-Shox provides an excellent ride over difficult terrain, earning it the moniker "Magic Carpet" despite its size.
2021 Can-Am Maverick X3 Max X RS Turbo RR with Smart-Shox ($32,099)
In addition to being the most expensive UTV currently available, it also has the longest model name. Can-Am equipped this version of the Maverick X3 with all available features. It is the pinnacle of current side-by-side engineering and is capable of conquering some of nature's most treacherous terrain. It provides seating for you and three other thrill-seekers. The Can-Am Maverick X3 Max X RS Turbo RR with Smart-Shox is the Lamborghini poster hanging on the wall of every child.
2021 Polaris RZR Turbo S 4 ($31,999)
When most people think of side-by-side, RZR comes to mind. Polaris dominates the sport class in terms of sales, and there's a good reason for it. The RZR Turbo S 4 model is the top of the series. It represents the result of decades spent attempting to improve the side-by-side sport. There has never been an RZR with larger factory tires, greater suspension travel, heart-stopping turbocharged power, and seating for four.
2021 Honda Talon 1000X-4 Special Edition: ($26,999)
The difference between the base Honda Talon 1000X-4 and the Special Edition is $5,000, one of the greatest in the category. Honda hopes that adding a Warn winch, front bumper, full poly vented windshield, 40-inch light bar, an accessory switch panel, a rearview mirror, lower door panels, front fender flares, and a TrueTimber Viper Urban Camo graphic overlay would convince you to part with the extra five stacks. In addition, it features a Fox Live Valve suspension with 2.5-inch shocks and computer-controlled damping and variable suspension settings.
2022 Kawasaki Teryx KRX 1000 Trail Edition ($23,499)
Kawasaki has yet to announce its plans for the eS model, as dealers and consumers are still receiving late deliveries of 2021 versions at the time of writing. The Trail Edition is currently the most popular 2022 model from Kawasaki, and it comes with an abundance of body protection and vibrant colors. Trail Edition vehicles feature a unique color scheme of Fragment Camo Gray with highlighter yellow accents on the cab cage, suspension, bumpers, and rock sliders. The KRX's price was increased to $23,499 when Kawasaki added bumpers, rock sliders, a complete canopy, and a Warn VRX 45 winch from their accessories catalog.
2022 Arctic Cat Wildcat XX SE ($22,699)
Arctic Cat equips the Wildcat XX LTD and SE models for 2022 with a brand-new Adapt CVT clutch system, which replaces the primary and secondary clutches for enhanced performance and durability. The Wildcat XX is still one of the UTVs with the best handling on tough terrain. They are uncommon, but their owners adore them for good reason. The XX SE for 2022 includes a Warn winch, rock sliders, and a color-matched paint scheme.
Read also: UTV getting too expensive?
2021 Yamaha YXZ1000R SS XT-R: ($22,299)
In 2022, the Yamaha YXZ1000R SS is the least expensive Japanese-manufactured sport UTV as well as the best value. The YXZ XT-R adds 29-inch Maxxis Carnage tires, a factory Warn winch and bumper, special-edition paint, and color-matched wheels for $1,100 more than the SS SE. "SS" denotes Yamaha's Sport Shift transmission, which is a computer-controlled, paddle-shifted, five-speed transmission with no clutch pedal.
2021 Arctic Cat Wildcat ($19,999)
Although Arctic Cat may not provide a wide variety of models or cutting-edge technology, the Minnesota company's products are highly refined. The Wildcat XX's impressive price-to-performance ratio is exemplified by its 130 horsepower engine and 18 inches of suspension travel. No surprise we see them so frequently rolling down the trail.
2022 CFMoto ZForce 950 HO EX ($14,999)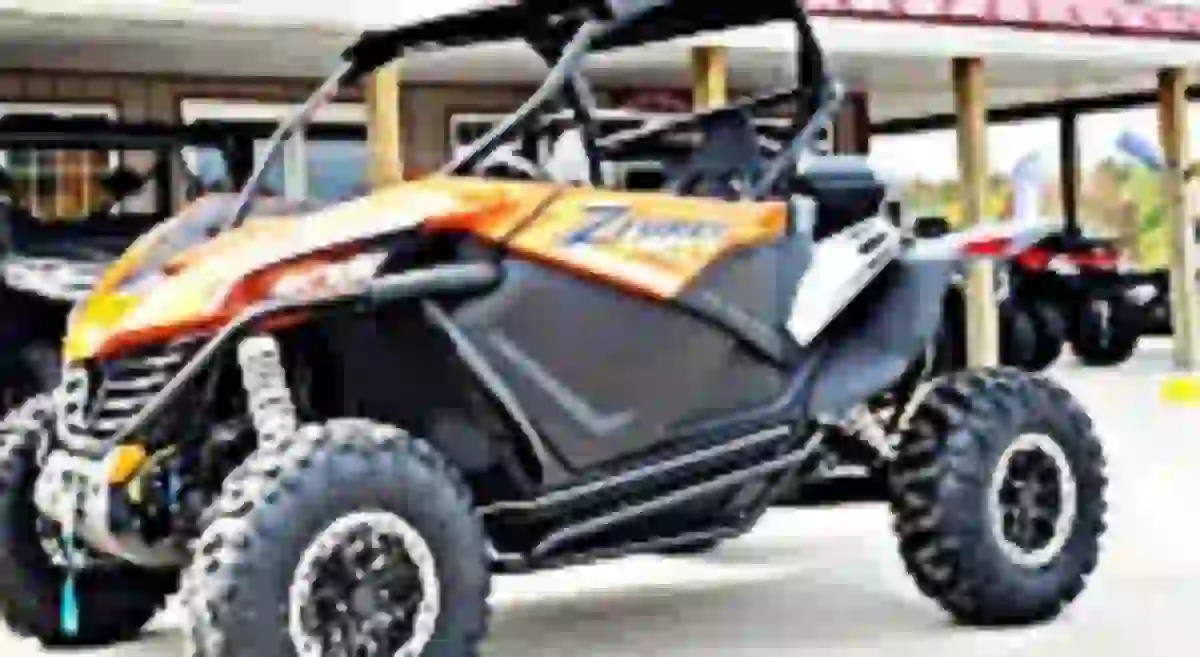 CFMoto's flagship model is the ZForce 950 HO, and the EX variant features a broader stance and 29-inch tires for a $1,000 premium above the 950 HO Sport. CFMoto is a long-standing manufacturer of ATVs with a substantial portion of the European ATV market. The ZForce 950 is powered by a 90-horsepower V-twin engine that produces a fantastic sound. Fully independent suspension at all four corners affords a front wheel travel of 11 inches and a rear wheel travel of 11.8 inches.
2021 CFMoto ZForce 950 Sport ($13,199)
The CFMoto ZForce 950 Sport is the brand's most expensive UTV, yet it offers a ton of fun for a reasonable price. For good reason, this model is at the top of the company's model list. You receive an array of standard features that will get you out on the trail or sand dunes without breaking the bank. A fantastic illustration of how sometimes less is more.
Frequently Asked Questions
What is the average price of UTVs?
Expect to invest between $4,000 to $30,000, per J.D. Power, or more for a new side-by-side. According to GoRollick statistics, the average cost of a new UTV is $15,626. The price of side-by-side vehicles is significantly depending on engine displacement and accessories.
Who manufactures UTVs?
Major brands include Honda, Can-Am, Polaris, Kawasaki, and Yamaha. These five brands may not encompass the entirety of the UTV market, but they offer among others the most reliable lineups of various models at varying price points and power specifications and amenities.
Conclusion
There are also other UTVs that are quite expensive in the market. This article details a few most espensive ones you should consider for your money in the market.
Latest posts by Bernard Juchli
(see all)