Driver's Guide
How to Get a Car Title in Your Name [how Much it Costs]
Last Updated on April 5, 2023 by Bernard Juchli
Purchasing a car, be it brand new or pre-owned, is undoubtedly thrilling, however, the process doesn't stop at the point of sale. You also have to get a car title in your name, since it is a legal document that proves you own the car. So, having it registered in your name gives you the right to drive, sell, or transfer the car in the future.
In this comprehensive article, we will walk you through the necessary steps, requirements, and helpful tips to make it easy for both first-time car owners and those with experience.
How to get a car title in your name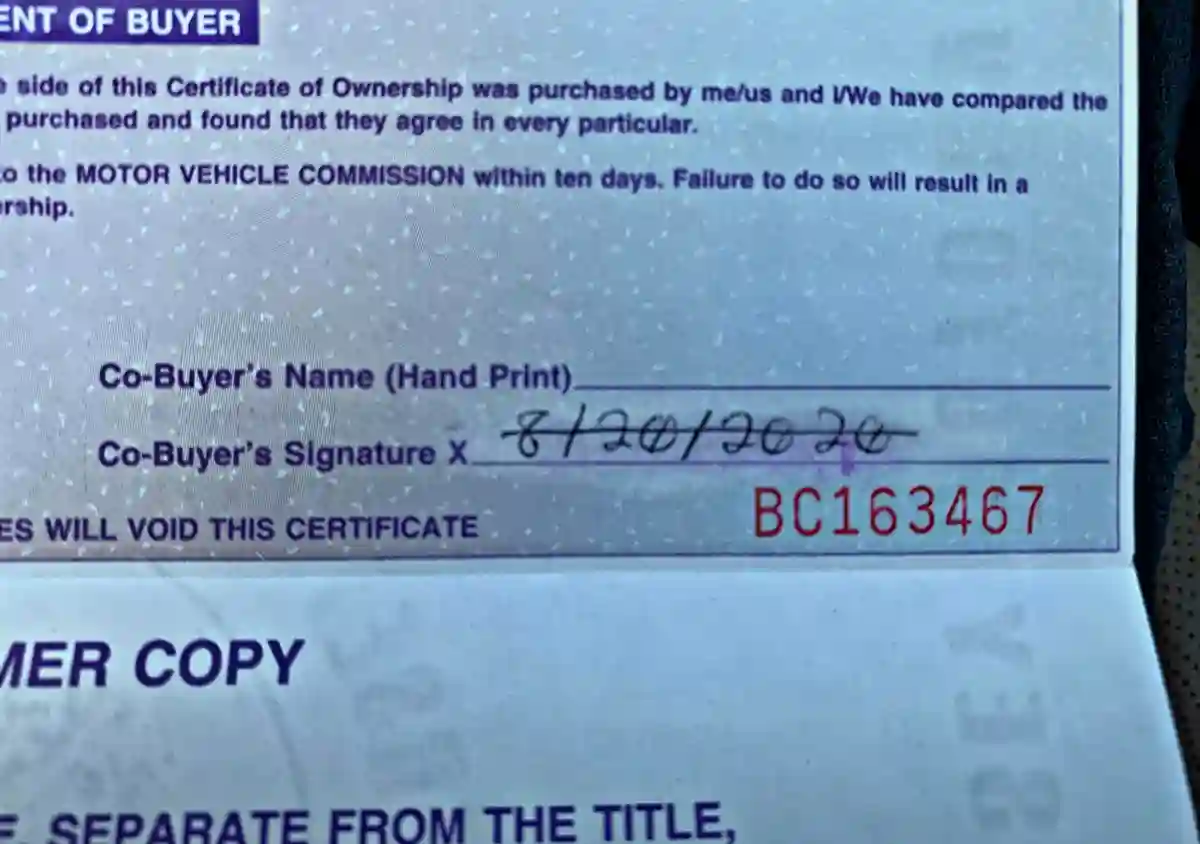 The process can be a bit complicated, but follow these steps to get a car title in your name:
1. Visit the official website of your state's DMV
You want to visit the official website of your state's DMV. Each state has unique requirements for this process, so it's essential to research the specific requirements for your state.
The DMV website should provide a comprehensive guide to the title transfer procedure, including the necessary forms and information to gather. If you're unable to find the information you need online, consider visiting a local DMV office for assistance.
When searching your state's DMV website, be sure to use relevant keywords such as "selling/buying a car," "transferring title," "transferring ownership," or "change in ownership." These terms should help you find the information you need to successfully get the car title into your name.
2. Get an Odometer Disclosure Statement
Federal law mandates that you must report the odometer reading of your car to the DMV when transferring ownership.
Exceptions to this requirement include cars that are over 10 years old, commercial cars weighing over 16,000 pounds, or cars that are being transferred before their first sale by a dealership (e.g., from manufacturer to dealer).
To fulfill this obligation, you should obtain a corresponding form from your state DMV. These forms are not typically available online, via email, or through fax due to the use of tamper-proof paper. You can obtain a form by visiting your local DMV in person, sending a request to the DMV, or contacting them by phone. If you choose not to pick up the form in person, it will be mailed to you within a few days.
3. Get an emissions testing report
In many states, a smog or emissions test must be performed when trying to get a car title in your name. The purpose of the test is to provide the DMV with information about the car's engine performance and potential as a pollution hazard. The process and responsibilities for obtaining an emissions report vary by state. For instance, in Washington, the buyer must get the report if they reside in specific counties, while in California; the seller should obtain a smog certification before transferring ownership to the buyer.
As the buyer, you might be responsible for getting the emissions report, and you might have to pay a fee, which is usually between $30 and $100.
4. Request the seller to complete a notice of transfer and release of liability
When a private seller gives you a car, they should notify the DMV within the state's specified few days. In California, for example, the seller has 5 calendar days after you take ownership to send the notice of transfer and release of liability. Ensure that the seller completes this step for a seamless title transfer process.
If the seller can't find the title, they'll have to sign an affidavit under oath saying they own the car and have the right to give it to you to get car title in your name. Ensure that this is done before submitting your title transfer documents to the DMV.
5. keep your bill of sale
The bill of sale is a document that you and the seller will complete together upon transferring ownership to out car title in your name. Despite its completion, it does not convey a title or serve as a notice of transfer. Its purpose is to help both parties collect the necessary information. The bill of sale will include the seller's details, the buyer's details, and information about the car.
Bill of sale forms are typically available on the website of your local DMV. If you are unable to locate the form, get in touch with the DMV.         
6. Fill out a title application form
The title application is the primary form used to transfer the car title into your name. Most DMV websites will have this form available for download and printing. If you require assistance getting a copy, simply contact your DMV.
Along with finding the form, try to locate instructions on how to fill it out as well. These forms often ask for a lot of information that may not be required or easily accessible. Once completed, have the form signed and stamped in front of a notary. In general, the title application will request the following information:
Vehicle license plate number

Car color

VIN

Model year

Power source (e.g., gas, diesel, hybrid)

Purpose (e.g., passenger, truck, motorcycle)

Make

Body type (2-door, 4-door, pickup, convertible)

Weight

Mileage

Your preferred name to appear on the title.
7. Obtain proof of liability insurance
Before you take your paperwork to the DMV, you should make sure you have proof of liability insurance. Different states may have different proof requirements and forms, but in North Carolina, proof can be given in some ways, such as:
A form from your insurance agent

Your vehicle's insurance policy

An insurance binder
Always remember to bring this proof of insurance along with all other necessary documentation to the DMV.
8. Submit title application at the DMV
Keep in mind that most state DMVs require this process to be done in person. Choose the DMV that is most accessible for you and allow enough time for the visit, as it can be a time-consuming process.
Consider scheduling an appointment to avoid waiting in line, but even with an appointment, be sure to give yourself plenty of time to complete the necessary steps. DMV visits can often take several hours.
When your turn at the DMV arrives, proceed to the designated counter and inform the worker that you are filing a transfer of title application. The official will request specific information from you, which you should have readily available. You will typically need to provide the following items:
Bill of Sale

Title Application

Current Title

Emissions Testing Report

Affidavit of Loss

Odometer Disclosure Statement.
9. Pay the fee
After you give the DMV all the paperwork they need, the DMV employee will figure out how much you owe for your application. The cost of transferring a car title in your name can vary greatly depending on the state you are in.
Additionally, some states may require additional fees beyond the transfer fee. If you fail to file on time, you may also have to pay a late fee. As an example, in California, you may be required to pay one or more of the following fees:
Transfer fee

Use taxes (depending on your location)

Registration renewal

Planned non-operation

Duplicate title fee
11. Receive the title with your name on it
After you fill out the forms and pay the fees, the DMV will process your request and send you a new title with your name on it. The length of time you will have to wait to receive your new car title in your name may vary, depending on the state you reside in and the type of application you submitted.
As an example, if you live in Washington, you can anticipate receiving your new title between 8 and 10 weeks after submitting your paperwork. However, if you opt for an expedited review by paying an additional fee, you will receive your new title in a shorter timeframe.
How much does it cost to put a car title in your name?
The cost to put a car title to your name is subject to variation based on the state in which you reside. Usually, the fee for title transfer ranges from $10 to $200. However, it can be more or less based on your state's unique regulations.
In some states, there may be additional fees such as a new title fee or sales tax, in addition to the title transfer fee.
Here are a few examples of title transfer fees in selected states:
California: The cost to put a car title in your name in California is $15.
Texas: The cost to put a car title in your name in Texas is $33.
New York: The cost to put a car title in your name in New York is $50.
Florida: The cost to put a car title in your name in Florida is $77.25.
Putting a car title in your name might cost you more than just the fee for transferring the title. For instance, you may have to pay for a car history report, a smog check, or any other required inspections. Furthermore, if the original title is lost or damaged, you may have to pay a fee for a duplicate.
Keep in mind that the title transfer process can differ from one state to another. Some states require a bill of sale, while others may require proof of insurance or a smog certificate. Always check with your local DMV for the specific requirements in your state.
Conclusion – car title in your name
To get a car title in your name, you will have to get the title from the previous owner and give it to you. The specifics of the title transfer process and its cost can differ based on your state of residence. So, to ensure that you have accurate information and avoid any complications, it is advisable to consult with your local Department of Motor Vehicles for your state's specific requirements.
Latest posts by Bernard Juchli
(see all)